LamiLight Lightweight, Waterproof Laminated Counter Tops

Laminated surfaces provide popular, colorful and varied looks for your kitchen counter tops and other applications.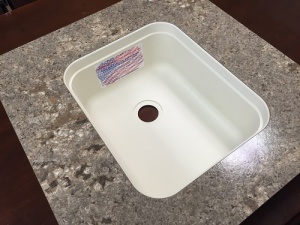 The downside to laminate is that you need something solid underneath it for strength and durability. Wouldn't it be nice to forget heavy wooden underlayments, & reduce the weight?
The lightweight, high density core of LamiLight helps reduce weight in all of the standard applications for laminated materials and surfaces.
The uses for LamiLight include kitchen countertops, bathroom countertops, backsplashes, dinette tables, and shelves, as well as many other possibilities. LamiLight lightweight, waterproof products are the perfect choice for boats, recreational vehicles, campers, and any type of vehicle where weight can be a concern.
On average, Lamilight can reduce weight by up to 40% compared to other laminated counter tops that use plywood, MDF, or other wood-based substrates.
All of our kitchen and bathroom sinks can be mounted in Lamilight, either top-mounted or under-mounted, so you get the exact look that you want.
We can access hundreds of colors and patterns for your project, so we can meet any design concept you may have. Whether it's your boat, RV, bus or other area that needs new counter tops, we think you'll agree that LamiLight is the perfect choice for your counter top replacement, remodeling or redecorating needs.
If you're interested in custom made counter tops or dinette table tops, chances are we can make them for you.
For more information, please contact our Sales Manager.